REALITY Studios to launch Specialite, a female-character VTuber agency: 1st audition set to start in Japan and globally on May 1st
REALITY Studios Inc., (Headquarters: Minato-ku, Tokyo, Japan, CEO: Kosuke Sugiyama, 100% subsidiary of GREE, inc., hereinafter "REALITY Studios") announced today that they are launching a VTuber agency with the brand name of "Specialite." The agency's very first audition is set to begin both in Japan and globally today, on May 1st, 2023.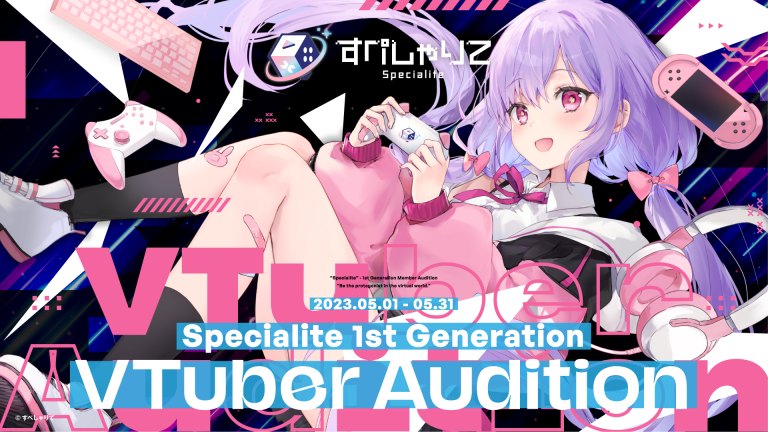 What is Specialite?
Specialite is a female-character VTuber agency that focuses on the management of game streamers who love and are skilled at computer/video games regardless of genre. The agency, experienced in talent management, will do its best to support their talents to become successful globally.
About the audition
Specialite is holding their first-ever virtual talent audition now. Candidates from all over the world are welcome! Candidates who pass the audition will have full support from the agency, including avatar creations by experienced illustrators, new streaming equipment such as gaming PCs and microphones, and talent management in general prior to and after their debut.
https://specialite.games/audition/en
Duration
May 1st, 2023 17:00 JST ~ May 31st, 2023 23:59 JST 
How to apply
Applications can be submitted through the audition page of Specialite's official website.
Link : https://specialite.games/audition/en
※ For further information, please refer to the audition page.
Updates regarding the audition are announced through Specialite's official website as well as their official Twitter accounts.
Twitter account (English) : https://twitter.com/Specialite_EN
Twitter account (Japanese) : https://twitter.com/Specialite_JP
REALITY Studios will continue to deliver services that can entertain millions of users through producing and developing new talents.
About REALITY Studios
REALITY Studios is a company based in Tokyo, Japan that operates and manages various VTuber agencies.
https://reality-studios.inc/